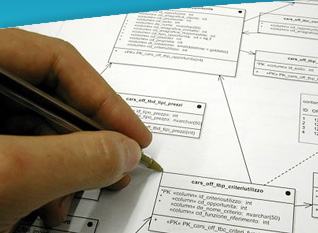 Contact

PHONE:
06-1-785-0946
FAX NUMBER:
06-1-785-0948
E-MAIL:
bi-tech@bi-tech.hu
ADDRESS:
1142 Budapest
Rohonc utca 5.
Intelligent data application
The datawarehouse is the place where data becomes information. The systems that help the business conduct of the organization are only for storing the data, they are unable to deliver them
in the proper form,
at the proper speed,
to the proper places,
at the proper time / periods of time
since it is not how they function.
Nowadays the hunger and specialized knowledge of business users demand the availibility of such means that allow the possibility of the utilization of strategic information. A leader is not any more satisfied with lists printed on paper that are retrieved from the systems, he/she wants to use Scorecard, OLAP technologies that can only be based on a separate datawarehouse.
There is an important tendency nowadays according to which the leaders themselves would also like to carry out ad-hoc queries, analyses at a short notice instead of waiting due to the necessity of informatics knowledge (management of means, place of data).
The reason for the existence of the data warehouses is supported by the heterogeneous data property of the companies since it is very difficult to "see" the whole organization through the points of views of different systems. The data warehouse includes the integrated data of all the important departments of the company that is available at a common platform, at a common point to everyone. This is the only way the "only truth" can be ensured in the organization. The idea of the data warehouse technologies is not quite new, there are a number of theories, methodologies that deal with the planning and realizing possibilities.
Our company has the kind of experience that is necessary for the planning and implementation of a well-functioning data warehouse.